Salt Mine near Telouet#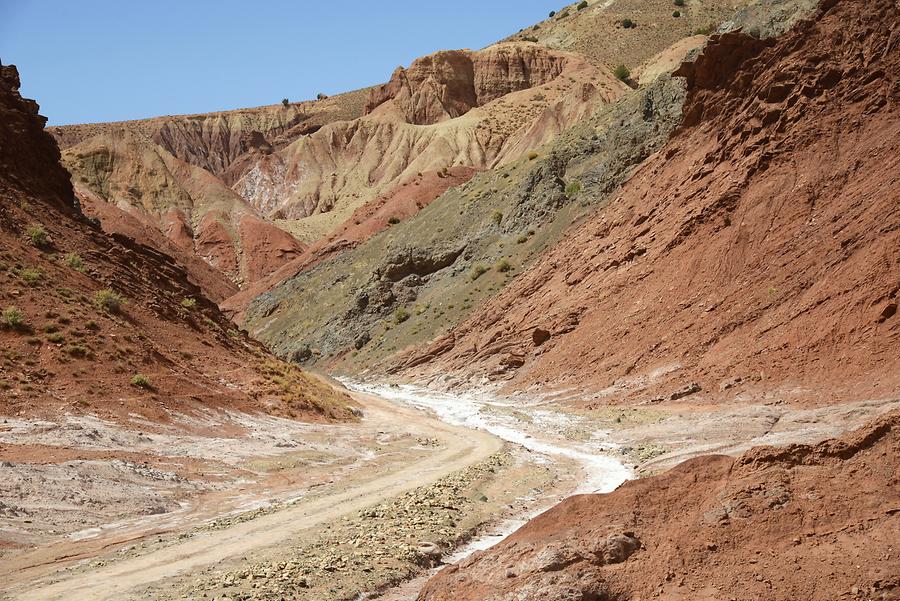 Atlas, a Greek titan who, according to mythology, was condemned to hold up the sky at the westernmost point for eternity on his shoulders, became the personification of the Atlas Mountains. A legend tells that one day he wept bitterly about the suffering in the world. His tears accumulated underground in a basin at the foot of the High Atlas. When centuries ago people sank wells in search of water they came across this salt spring by accident. Since then, the aqueous solution is funnelled to evaporation basins where the valuable Atlas salt remains. The geological features give it a sweet note and make it a gourmet salt highly sought after by top chefs all over the world.
Atlas, ein griechischer Titan, der dem Mythos nach das Himmelsgewölbe am westlichsten Punkt auf seinen Schultern trug, wurde zur Personifizierung des Atlas-Gebirges. Eine Legende erzählt, dass er eines Tages über das Leid in der Welt bitterlich weinte. Seine Tränen sammelten sich unterirdisch in einem Bassin am Fuße des Hohen Atlas. Als man vor Jahrhunderten auf der Suche nach Wasser Brunnen grub, stieß man per Zufall auf diese Sole. Seither wird die wäßrige Lösung in Verdunstungsbecken geleitet, wo das wertvolle Atlassalz zurückbleibt. Die geologischen Besonderheiten verleihen ihm eine süßliche Note und machen es zu einem höchst begehrten Gourmetsalz bei Spitzenköchen in aller Welt.