Ouarzazate - Medina; Synagogue#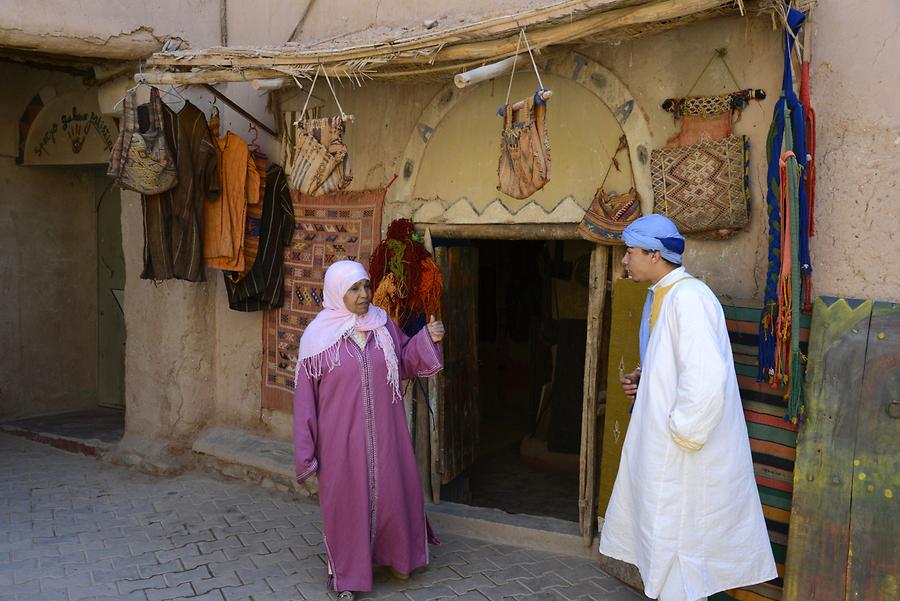 The former synagogue now houses a factory for woven carpets. More than 2,000 years ago, Jews came as refugees to Morocco. However, most of them reached the country in the late 15th century, when the Spanish Reconquista expelled more than 100,000 Jews from the Iberian Peninsula. As believers of a 'book religion', the Moroccan Jews enjoyed a special status of protection, granting them certain rights against the payment of a head tax. Yet they were second-class citizens compared to Muslims.
In der einstigen Synagoge ist heute eine Teppichweberei untergebracht. Schon vor mehr als 2000 Jahren kamen Juden als Flüchtlinge nach Marokko. Die meisten erreichten das Land jedoch Ende des 15. Jahrhunderts, als die spanische Reconquista mehr als 100.000 Juden von der iberischen Halbinsel vertrieb. Als Anhänger einer 'Buchreligion' genossen die marokkanischen Juden einen speziellen Schutzstatus, der ihnen gegen Zahlung einer Kopfsteuer gewisse Rechte zugestand. Dennoch waren sie gegenüber den Muslimen Bürger zweiter Klasse.