Amerhildil - Kasbah; Inside#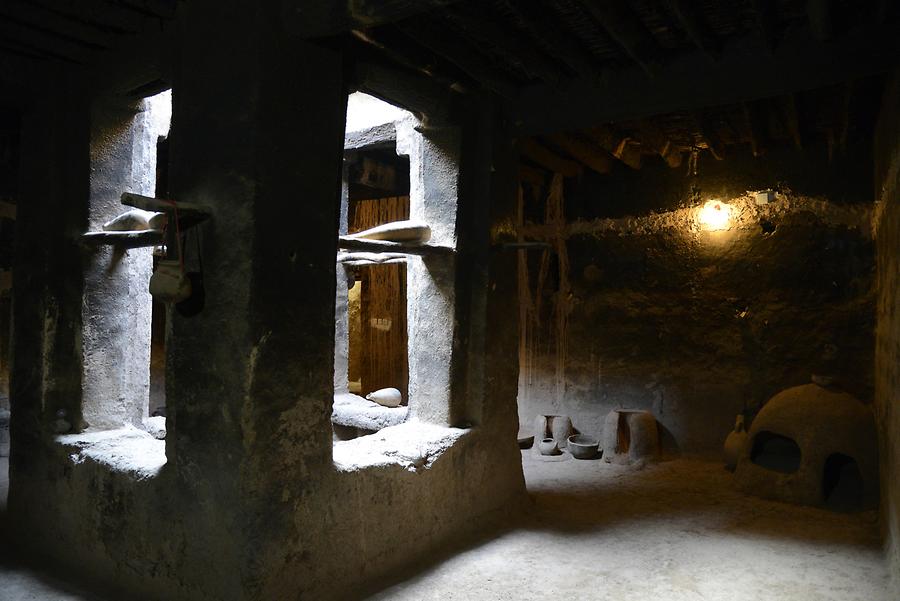 A small courtyard lies in the centre of the complex ensuring a pleasantly cool air circulation. Generally, the ground floor was used as a stable. The grain was stored above, while the higher storeys served as bedrooms and living quarters. They were outfitted with upholstery and carpets, the Berbers did not use chairs and tables. Particularly luxurious Kasbahs even had their own toilet.
Das Herz der Anlage bildet ein kleiner Innenhof, der für eine angenehm kühle Luftzirkulation sorgt. Üblicherweise wurde das Erdgeschoss als Stall genutzt. Darüber lagerte das Getreide, während die höheren Geschosse als Schlaf- und Wohnräume dienten. Sie waren mit Polstern und Teppichen ausstaffiert, Stühle und Tische gab es bei den Berbern nicht. Besonders luxuriöse Kasbahs verfügten sogar über ein eigenes WC.