Meknes - the Imperial City#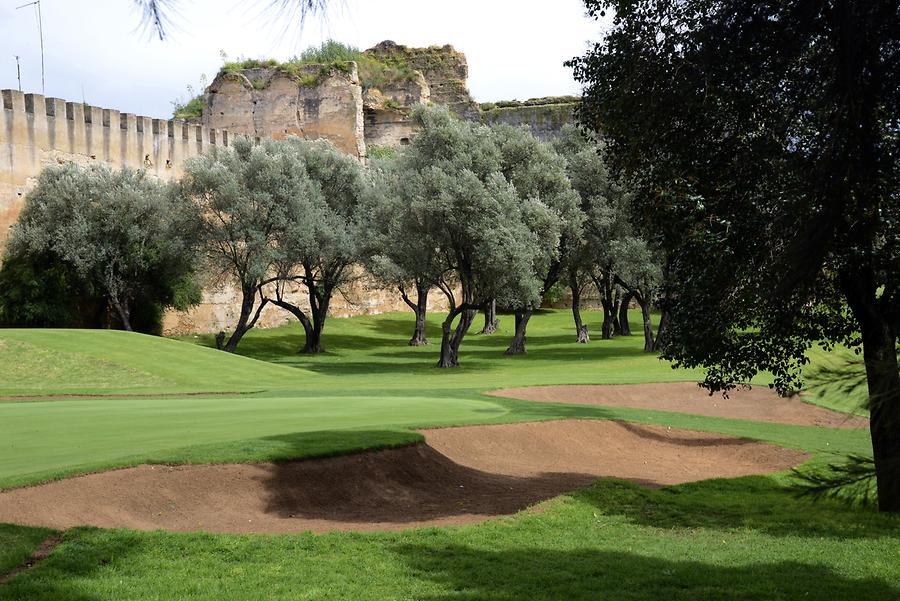 Moulay Ismail went down in history as 'The Bloodthirsty', who brought Morocco a sadistic terror regime - backed by a 150,000-strong Black Guard of Sudanese military slaves. Already at his accession to the throne Ismail made short work of his 83 brothers. On the day of his accession to office he had all those executed who did not surrender unconditionally. The merciless ruler arbitrarily sentenced to death and when he felt like it, he even carried them out himself. The colour of his clothes reflected his mood: Yellow was his preferred colour when ordering executions. Nevertheless, he is considered to have paved the way for a modern Morocco, who united the country, who subjected all Berber tribes and who forced back the Spaniards. Despite his hundreds of sons, he unfortunately failed to settle the succession. After Ismail's 55-year rule, the empire broke up in the Wars of the Diadochi. The honour of being the capital returned to Fes and Meknes sank into parochial insignificance. The probably most magnificent palace city of North Africa was completely destroyed. On an area of two square kilometres, the size of ​​about 30 football fields, huge gardens and no less than 30 palaces testified the ruler's unlimited power, who probably bore the nickname 'Louis XIV of Morocco' not without good reason.
Moulay Ismail ging als 'der Blutige' in die Geschichte ein, der Marokko eine sadistische Schreckensherrschaft bescherte – unterstützt von einer 150.000 Mann starken Schwarzen Garde aus sudanesischen Soldatensklaven. Schon bei der Thronbesteigung machte Ismail mit seinen 83 Brüdern kurzen Prozess. Am Tag des Amtsantritts ließ er alle hinrichten, die sich nicht bedingungslos unterwarfen. Der erbarmungslose Herrscher sprach willkürlich Todesurteile aus und wenn ihm danach war, vollzog er sie auch selbst. Die Farbe seiner Kleidung spiegelte seine jeweilige Stimmung wider: Gelb war seine 'Tötungsfarbe', in der er Hinrichtungen anordnete. Trotzdem gilt er als Wegbereiter des modernen Marokko, der das Land einte, alle Berberstämme unterwarf und die Spanier zurückdrängte. Trotz seiner hunderten Söhne versäumte er es aber dummerweise, die Nachfolge zu regeln. Nach Ismails 55-jähriger Regentschaft zerbrach das Reich unter Diadochenkämpfen. Die Hauptstadtwürden wanderten wieder nach Fes und Meknes versank in provinzielle Bedeutungslosigkeit. Dabei wurde die wohl prächtigste Palaststadt Nordafrikas vollkommen zerstört. Auf zwei Quadratkilometern, einer Fläche von etwa 30 Fussballfeldern, zeugten riesige Gartenanlagen und nicht weniger als 30 Paläste von der unumschränkten Macht des Herrschers, der den Beinamen 'Ludwig der XIV von Marokko' wohl nicht zu unrecht trug.