Fes - Tanners' Quarter#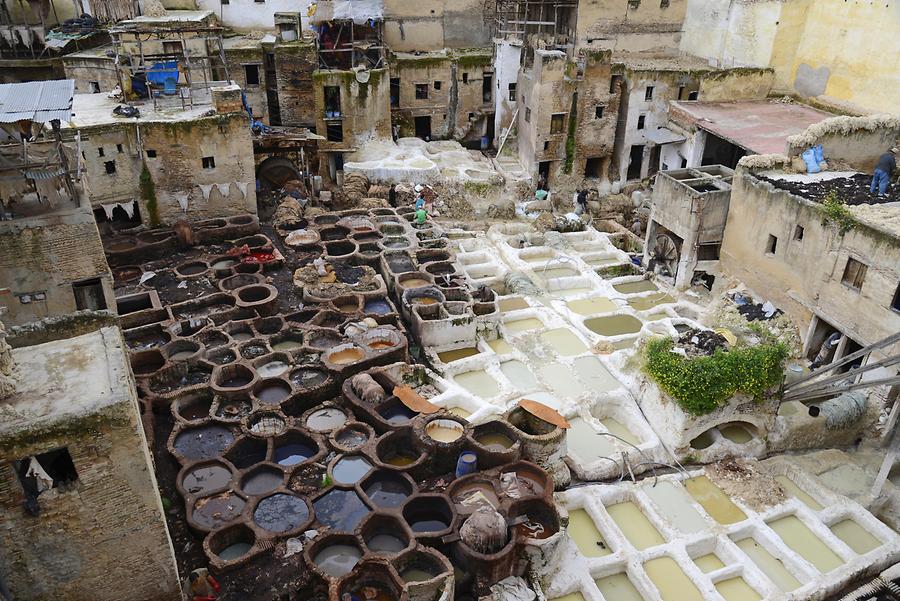 It is only a few metres from the educational elite to the lowest level of the social hierarchy in Fes. A pungent odour leads unerringly to the tanners' quarter, where leather and skins are still laboriously tanned by hand. The workers, most of whom were born into this profession, wade for hours knee-deep in chemicals every day. After the removal of the fur and the cleaning the skins are chalked and bated. For this purpose, a watery mixture of pig manure, bovine urine and ash is used. For the subsequent dyeing natural products such as indigo, saffron and poppy are used. In the last step the skins are dried. Because of their excellent quality, leather goods from Fes were already exported to Baghdad in the 12th century.
Zwischen der bildungspolitischen Elite und der untersten Stufe der sozialen Hierarchie liegen in Fes nur wenige Meter. Ein beißender Geruch führt untrüglich ins Viertel der Gerber, wo nach wie vor Leder und Felle in mühevoller Handarbeit gegerbt werden. Die meist in diesen Beruf hineingeborenen Arbeiter waten jeden Tag stundenlang knietief in Chemikalien. Nach einem Enthaarungs- und Reinigungsschritt werden die Felle gekalkt und gebeizt. Dazu verwendet man eine wäßrige Mischung aus Schweinedung, Rinderurin und Asche. Zum anschließenden Färben nimmt man Naturstoffe wie Indigo, Safran und Mohn. Im letzten Schritt erfolgt die Trocknung der Felle. Wegen ihrer ausgezeichneten Qualität wurden Lederwaren aus Fes schon im 12. Jahrhundert bis Bagdad exportiert.