Tiya - Sepulchral Steles#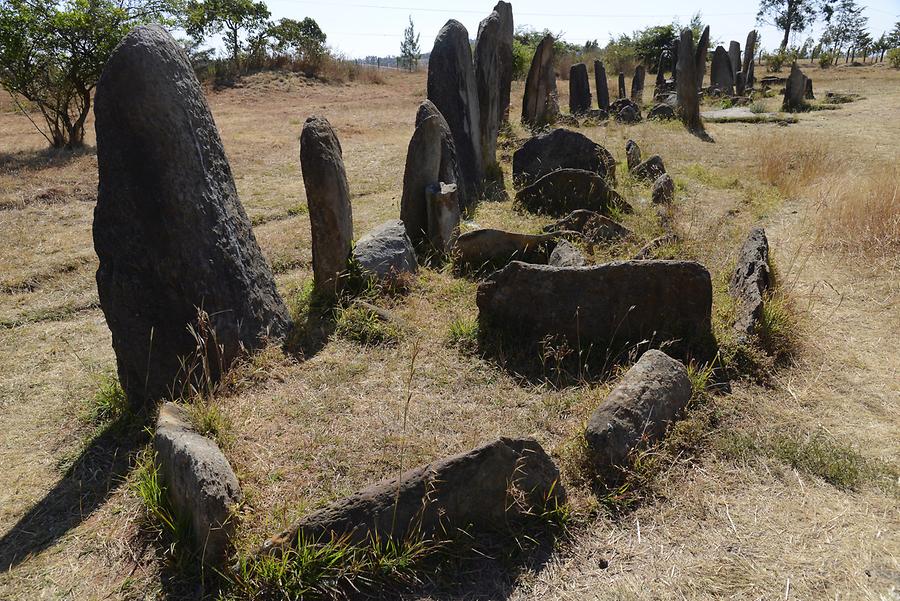 Suddenly obelisks, up to 5 m high, rise into the sky. The steles of Tiya are among the most puzzling finds of the Ethiopian past. The researchers agree that the 800-year-old monuments mark grave chambers, but the meaning of the patterns and symbols on the steles remain a mystery. The two points may be a symbol for the male breast. Probably they are graves for distinguished personalities. They are a UNESCO World Heritage Site.
Unvermutet ragen plötzlich bis zu 5 m hohe Obelisken in den Himmel. Das Stelenfeld von Tiya gehört zu den rätselhaftesten Funden der äthiopischen Geschichte. Zwar sind sich die Forscher einig, dass die etwa 800 Jahre alten Monumente Grabkammern markieren, doch über die Bedeutung der Muster und Symbole auf den Stelen herrscht Rätselraten. Die beiden Punkte stehen möglicherweise als Symbol für die Männerbrust. Wahrscheinlich handelt es sich um Gräber für hochgestellte Persönlichkeiten. Sie gehören zum Unesco-Weltkulturerbe.