Sidama People - Church#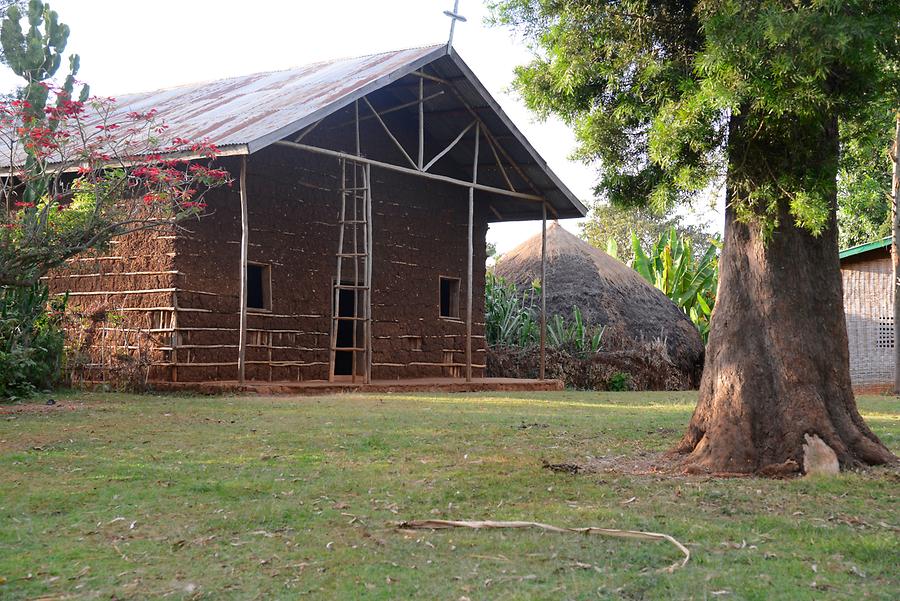 Even though some Christian influences are recognizable, the spiritual world of these illiterate people shows their close connection with nature. Impressed by cloudy natural phenomena, and at the same time driven by the obsession with explanation of the human brain, the people invented gods, spirits, and demons as a simple explanatory model - the birth of religions. Frequently, these peoples have the idea of ​​a creator god, who has terminated his work long since and hardly plays a role in today's religious life any more. The spirits associated with prominent places such as mountains, lakes or rocks, are much more present. Obsessed people often serve as media in order to connect with the supernatural. Elsewhere, it is the shamans or the clan elders who are responsible for communicating with the spiritual world. This is where the souls of the deceased reside who - as good or evil spirits - influence the living. Gods, on the other hand, are strongly influenced by the economic system: Among huntsmen, animal deities lead the Pantheon, while farmers mainly worshipped earth and fertility deities. Many believe in animism, the animacy of the whole nature. The divine is permanently present in every part of nature. The access to religion is pragmatic: one worships only those forces that can help and want to help, too. The worship of a supernatural power for the sake of its holiness does not occur.
Auch wenn manche christliche Einflüsse erkennbar sind, zeugt die Glaubenswelt dieser schriftlosen Völker von ihrer engen Verbindung zur Natur. Beeindruckt von unverständlichen Naturphänomenen und gleichzeitig getrieben von der Erklärungssucht des menschlichen Gehirns, erfanden die Menschen Götter, Geister und Dämonen als einfache Erklärungsmuster – die Geburtsstunde der Religionen. Häufig besitzen diese Völker die Vorstellung von einem Schöpfergott, der sein Werk jedoch längst vollbracht hat und im aktuellen religiösen Leben kaum eine Rolle spielt. Viel gegenwärtiger sind die Geister, die mit markanten Orten wie Bergen, Seen oder Felsen in Verbindung gebracht werden. Besessene Menschen dienen oftmals als Medien, um Kontakte zum Übernatürlichen herzustellen. Anderswo sind es Schamanen oder die Clan-Ältesten, die für die Kommunikation mit der spirituellen Sphäre zuständig sind. Dort wohnen vor allem die Seelen der Verstorbenen, die als gute oder böse Geister Einfluß auf die Lebenden haben. Götter dagegen sind stark von der Wirtschaftsform geprägt: Bei Jägern führen Tiergötter den Pantheon an, während Ackerbauern vor allem Erd- und Fruchtbarkeitsgötter verehren. Viele glauben an den Animismus, an die Beseeltheit der gesamten Natur. Das Göttliche ist gleichsam in jedem Teil der Natur immanent. Der Zugang zur Religion erfolgt pragmatisch: man verehrt nur solche Kräfte, die helfen können und wollen. Die Anbetung einer übermenschlichen Macht nur um ihrer Heiligkeit willen kommt nicht vor.