Lake Ziway - Marabou#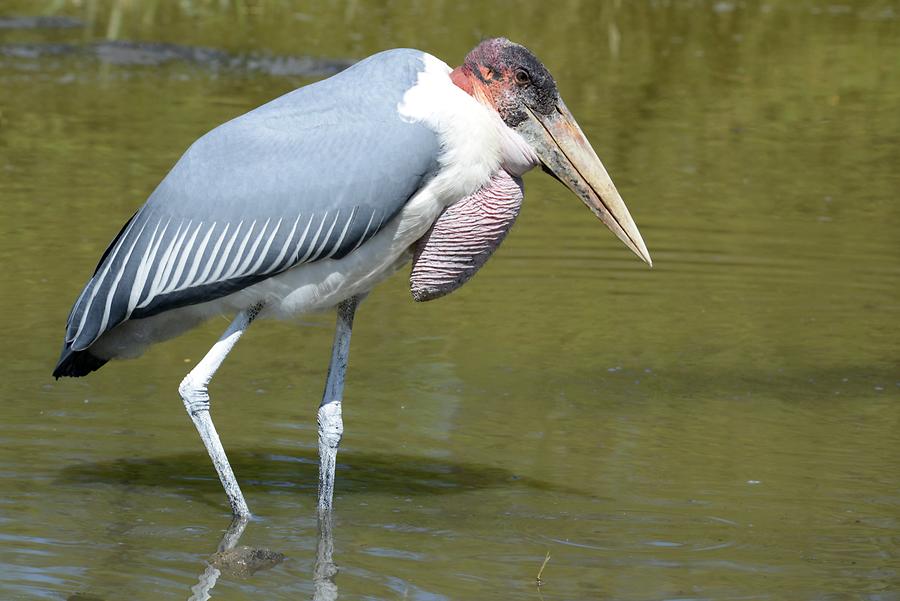 The Marabou, the biggest stork species, too. With a wingspan of 3 metres, the bird almost equals the Andean condor. With its little attractive, bald head the carnivorous animal does not win a medal, but nevertheless this bald head is advantageous, as blood and flesh remnants hardly stick to it when eating and they are easy to wash off. Unlike for other birds, the typical red throat pouch does not serve as a craw, but presumably has only an aesthetic function when looking for a hen.
Ebenso der Marabu, die größte Storchenart. Mit einer Spannweite von 3 m kommt der Vogel knapp an den Andenkondor heran. Der wenig attraktive, kahle Kopf bringt dem aasfressende Tier zwar keine Schönheitsmedaillen, aber trotzdem große Vorteile, weil Blut- und Fleischreste beim Fressen nur schwer haften bleiben und leicht abwaschbar sind. Der typische rote Kehlsack dient ihm nicht wie anderen Vögeln als Kropf, sondern hat vermutlich nur eine ästhetische Funktion bei der Brautschau.