Lake Abijatta - Flamingos#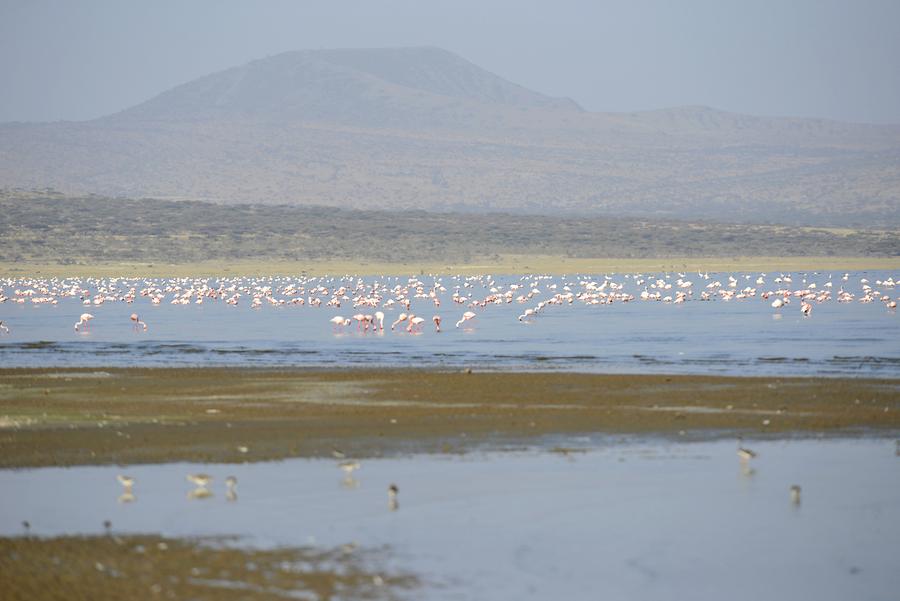 In the shallow coastal area of Lake Abijatta, countless flamingos draw pink dashes of colour into the landscape. The animals continually filter plankton, insect larvae and small crabs with their beak from the water. This is done at a breathtaking speed. The tongue pumps water into and out of the beak 5 to 20 times - per second! And by doing so, flamingos eat 270 g of food every day, which corresponds to about 50,000 insect larvae. Most animals have white or gray feathers by nature. Their pink colour is due to pigments which they absorb with the food. The dainty birds live monogamous in colonies of up to 2 million animals and can reach an age of up to 50 years.
Im flachen Küstenbereich des Abiata-Sees zeichnen Unmengen an Flamingos rosa Farbtupfer in die Landschaft. Mit dem Schnabel filtern die Tiere unablässig Plankton, Insektenlarven und kleine Krebse aus dem Wasser. Dies geschieht mit atemberaubender Geschwindigkeit. Die Zunge pumpt Wasser in und aus dem Schnabel 5 bis 20 Mal – pro Sekunde! So verspeisen Flamingos jeden Tag 270 g Nahrung, was etwa 50.000 Insektenlarven entspricht. Die meisten Tiere haben von Natur aus ein weisses oder graues Gefieder. Ihre rosa-Färbung verdanken sie Farbstoffen, die sie erst mit der Nahrung aufnehmen. Die zierlichen Vögel leben monogam in Kolonien von bis zu 2 Mio. Tieren und gehören zu den Methusalems der Fauna. Sie können ein Alter von bis zu 50 Jahren erreichen.