Na'akueto La'ab - Crosses#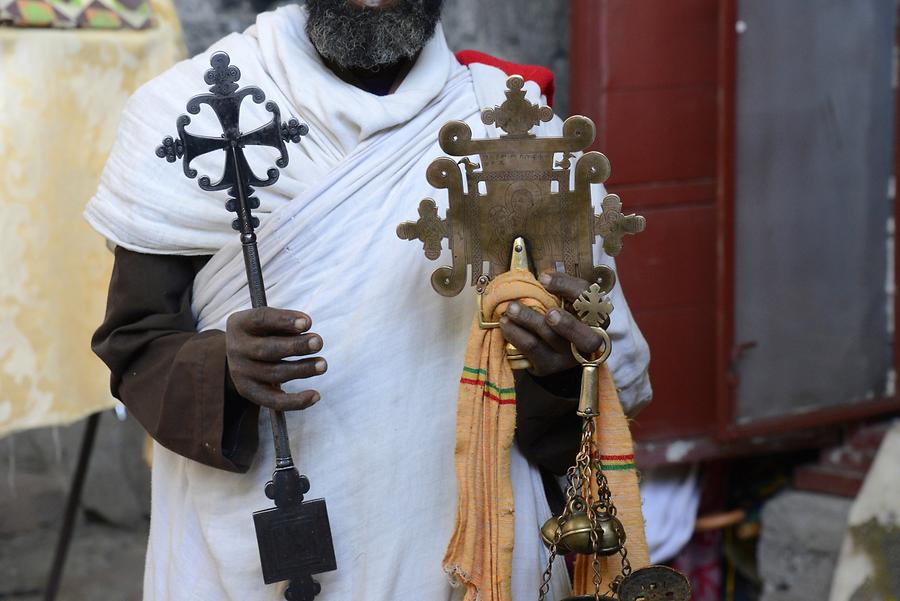 The priest is busy bottling the holy water. Gladly he shows us his church treasury. In addition to the traditional Christian crosses, the Ethiopian church uses mainly independent forms, such as the square-shaped Axumite cross and the Lalibela cross, surrounded by 12 circles, symbolizing the apostles, and pairs of wings representing the Holy Spirit. Priests extend these crosses to the believers for a kiss.
Der Priester ist mit dem Abfüllen des heiligen Wassers beschäftigt. Gerne zeigt er uns seine Kirchenschätze. Neben den traditionellen christlichen Kreuzen werden in der äthiopischen Kirche vor allem eigenständige Formen verwendet, wie das viereckige axumitische Kreuz und das Lalibela-Kreuz, umrahmt von 12 Kreisen, die die Apostel symbolisieren und Flügelpaaren, die für den heiligen Geist stehen. Priester reichen diese Kreuze den Gläubigen zum Kuss.