Gemp - The Palace District#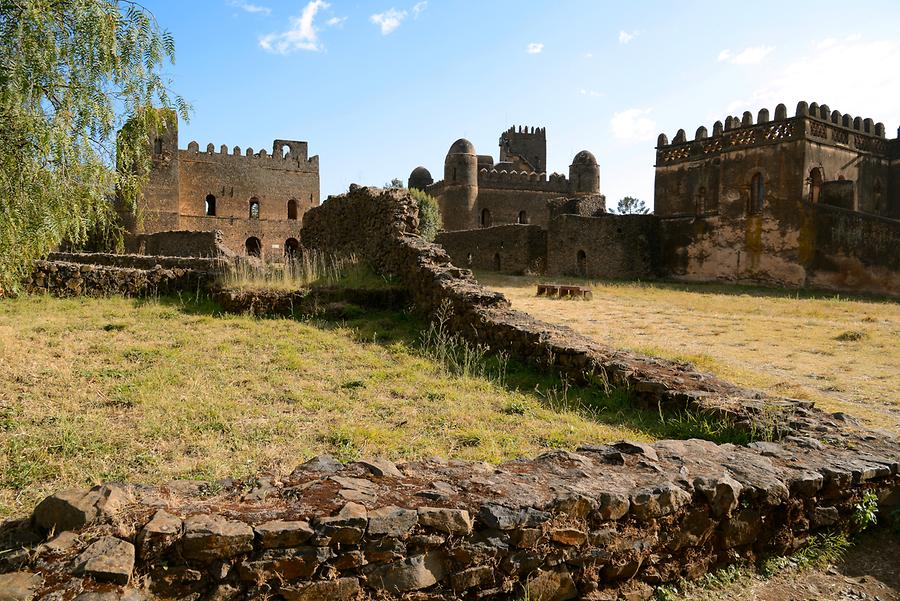 Officially, Fasilides resided in a 7,000 square meter, luxurious palace district, which a traveller once described as follows: 'Compared to these palaces, all other houses in Ethiopia are only nests made of grass'. An enclosure wall with 12 gates protected the residence. Under the rule of Fasilides, Ethiopia became a politically cohesive major power. Art and literature experienced an unprecedented boom. Historians report that anyone who wanted to learn received a meal at court, anyone who could read and write, received this meal plus a beer and for poets there was honey wine, too. At its peak, Gondar had more than 80,000 inhabitants, a variety of schools and universities as well as workshops for the production of luxury goods. Besides that, court was held pompously. When travellers reported this in Europe, they were not believed because it was simply unimaginable that there should be a king in the middle of Africa, whose court was in no way inferior to those of European potentates. It is said that there have been banquet rooms all lined with ivory. Others were decorated with Venetian mirrors and precious carpets and paintings by Byzantine artists who had fled here from Izmir.
Offiziell residierte Fasilidas in einem 7000 m² großen, prunkvollen Palastbezirk, über den ein Reisender berichtete: 'Im Vergleich zu diesen Palästen sind alle anderen Häuser in Äthiopien nur Nester aus Gras'. Eine Umfassungsmauer mit 12 Toren schützte die Residenz. Unter Fasilidas wurde Äthiopien zur politisch geschlossenen Großmacht. Kunst und Literatur erlebten eine beispiellose Blüte. Geschichtsschreiber berichten, dass jeder, der lernen wollte, eine Mahlzeit am Hof erhalten habe, jeder der lesen und schreiben konnte, bekam die Mahlzeit mit Bier und für Dichter gab es noch Honigwein dazu. Zur besten Zeit hatte Gondar über 80.000 Einwohner, eine Vielzahl an Schulen und Universitäten sowie Werkstätten zur Erzeugung von Luxusgütern. Dazu zelebrierte man eine prunkvolle Hofhaltung. Als Reisende darüber in Europa berichteten, wurde ihnen nicht geglaubt, weil man sich einfach nicht vorstellen konnte, dass es mitten in Afrika einen König geben sollte, dessen Hof dem der europäischen Potentaten kaum nachstand. Es soll hier Banketträume gegeben haben, die vollständig mit Elfenbein ausgekleidet waren. Andere schmückten venezianische Spiegel und wertvolle Teppiche und Gemälde von byzantinischen Künstlern, die aus Izmir hierher geflohen waren.