Debre Berhan Selassie Church - Entrance#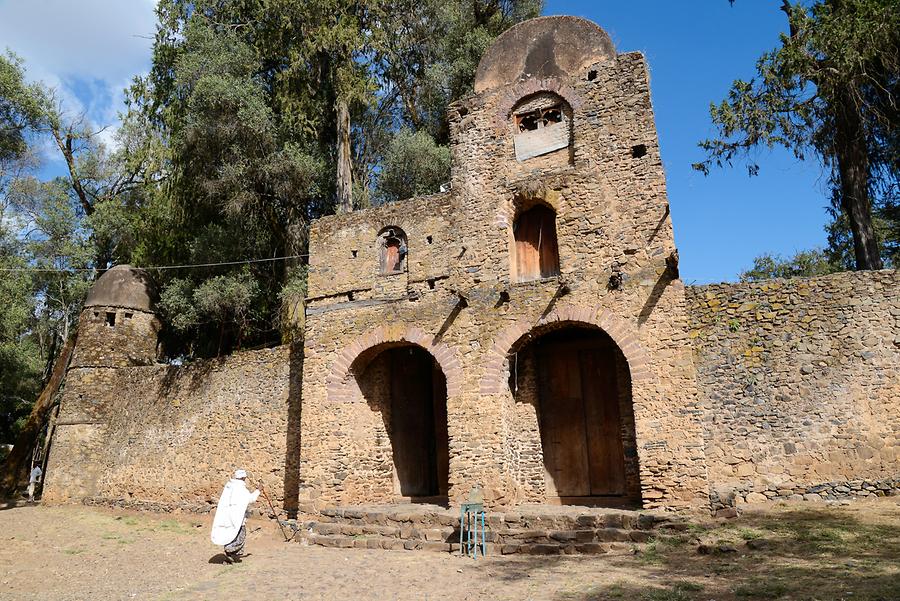 As custodians of Christianity, Gondar's emperors continued the tradition of monastery foundations. The Debre Berhan Selassie Church from the late 17th century, however, shows an unusual design: Based on the model of an axumitic basilica, it has no circular form but a rectangle one. Inside, you can see fascinating colourful wall paintings depicting stories from the Bible. Hundreds of angels with wings look down from the ceiling. They hint at a peculiar legend, which is told about the founder of the town, Emperor Fasilides. The ruler was always pursued by bad luck because God was angry with him for having so many concubines. Therefore he always had to build new churches in order to avert catastrophes such as epidemics, storms or attacks of wild animals. When he - again - married two Catholic daughters from Rome and was - again - accused by the monks, his patience snapped. Without hesitation, he had the clerics decapitated. But the chopped off heads got wings and flew directly up into heaven. This miracle drove innumerable people to the place of execution. They accused the king, in order to also enjoy an execution. Fasilides had another 9099 monks decapitated, not counting the laity, and finally had to donate three more monasteries. But you do what you can to indulge your passion, don't you?.
Als Hüter des Christentums führten Gondars Kaiser die Tradition von Klostergründungen fort. Die Debre Berhan Selassie-Kirche aus dem späten 17. Jahrhundert zeigt jedoch eine ungewöhnliche Form: Nach Vorbild axumitischer Basilikas bildet sie keinen Kreis, sondern ein langes Rechteck. Im Inneren faszinieren bunte Wandmalereien mit Geschichten aus der Bibel. Von der Decke blicken Hunderte geflügelte Engel. Sie spielen auf eine eigenartige Sage an, die über Stadtgründer Kaiser Fasilidas erzählt wird. Der Herrscher war nämlich dauernd vom Unglück verfolgt, weil es Gott erzürnte, dass er so viele Konkubinen hatte. Stets mußte er neue Kirchen errichten, um Katastrophen wie Epidemien, Unwetter oder Überfälle wilder Tiere abzuwenden. Als er dann nochmals zwei katholische Töchter aus Rom heiratete und wiederum von den Mönchen angeklagt wurde, riß ihm der Geduldsfaden. Er ließ die Geistlichen kurzerhand köpfen. Doch die abgeschlagenen Köpfe bekamen Flügel und flogen direkt in den Himmel hinauf. Dieses Wunder trieb unzählige Menschen zur Richtstätte. Sie klagten den König an, um auch in den Genuß der Hinrichtung zu gelangen. Fasilidas ließ weitere 9099 Mönche köpfen, die Laien gar nicht mitgezählt, und mußte schließlich drei weitere Klöster stiften. Aber was tut "Mann" nicht alles, um der Lust zu frönen.