Lillehammer - Ski Jump; Ski Jumper#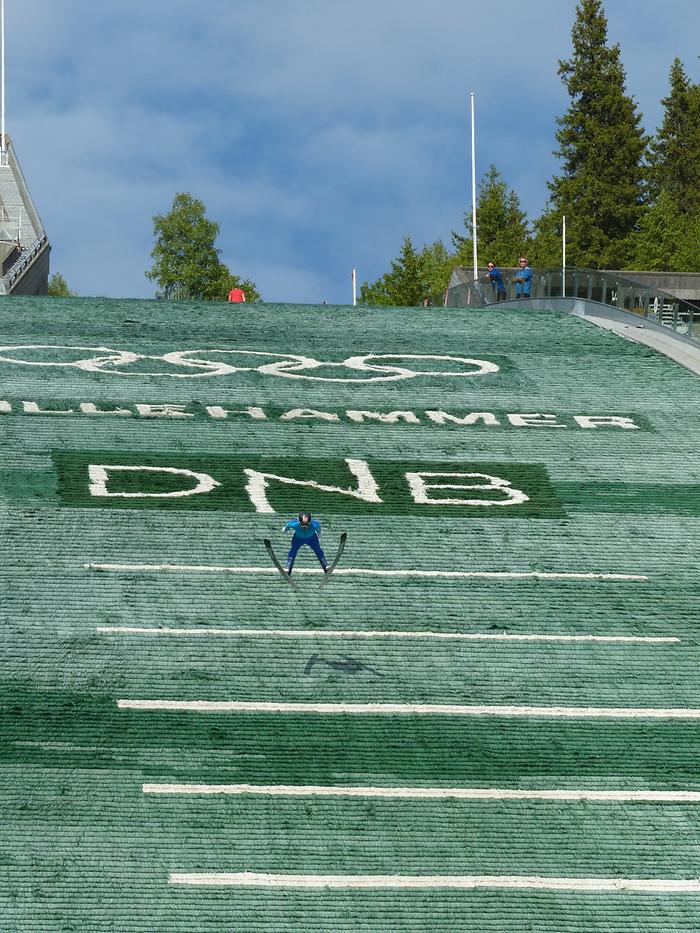 Lillehammer
Lillehammer
is a municipality in Oppland county.
It is part of the traditional region of Gudbrandsdal. The administrative centre of the municipality is the town of Lillehammer. The city centre is a late 19th-century concentration of wooden houses, which enjoys a picturesque location overlooking the northern part of lake Mjøsa and the river Lågen, surrounded by mountains.
Lillehammer hosted the 1994 Winter Olympics and 2016 Winter Youth Olympics. The picture shows the ski-jump that is designed to be also useable in summer, as the ski jumper demonstrates.
Lillehammer
Lillehammer
ist eine Gemeinde im Kreis Oppland.
Es ist Teil der traditionellen Region Gudbrandsdal. Das Verwaltungszentrum der Gemeinde ist die Stadt Lillehammer. Das Stadtzentrum ist eine im späten 19. Jahrhundert erbaute Konzentration von Holzhäusern, die eine malerische Lage mit Blick auf den nördlichen Teil des Sees Mjøsa und den Fluss Lågen, umgeben von Bergen genießen.
Lillehammer veranstaltete die Winterolympiade von 1994 und 2016 die Jugend-Winterolympiade. Das Bild zeigt die Sprungschanze, die auch im Sommer verwendbar ist, wie der Skispringer zeigt. Lillehammer wurde durch die Ausrichtung der 17. Olympischen Winterspiele im Jahre 1994 weltweit bekannt.