Georgia#
The capital and largest city is Tbilisi.
After a brief period of independence following the Russian Revolution of 1917, the first Georgian Republic was occupied by Soviet Russia in 1921, and absorbed into the Soviet Union as the Georgian Soviet Socialist Republic in 1922.
After restoring its independence in 1991, post-communist Georgia suffered from civil unrest and an economic crisis for most of the 1990s.
Following a peaceful change of power in the Rose Revolution of 2003, Georgia pursued a strongly pro-Western foreign policy, introducing a series of political and economic reforms.
Georgia has largest boundary with Russia which is approximately 723 km.
Georgia has shortest boundary with Armenia which is approximately 164 km.
The largest river in Georgia is Kura which is 1360 km.
The largest export partner of Georgia is Azerbaijan.
The largest import partner of Georgia is Turkey.
There are 4 seaports in Georgia.
Tourist Attraction#
A valley provides a scenic footpath through the peaks of Georgia's Caucasus Mountains.
National Facts#
The national sport of Georgia is Rugby union.
The famous dishes of Georgia are Khachapuri, Khinkali etc.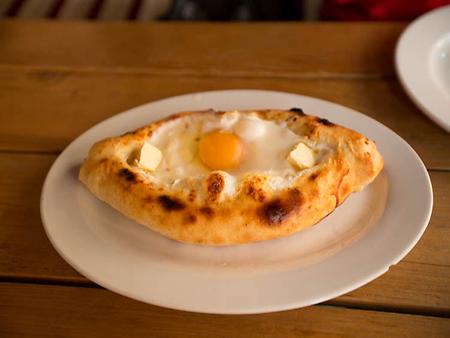 References#
Text marked as italic is taken from https://en.wikipedia.org/wiki/Georgia unter CC