Big Buddha Statue on Lantau Peak#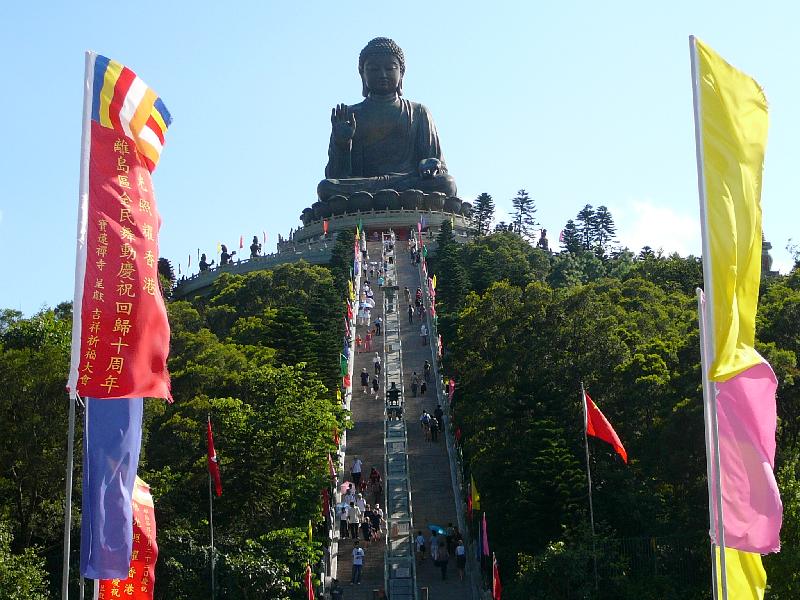 The large bronze statue of Big Buddha known as Tian Tan Buddha and completed in 1993, is part of the Po Lin Monastery complex on Lantau Peak which is a major centre of Buddhism in Hong Kong, but the site is also a very popular tourist attraction, not only for foreigners but also for the local people. The statue is sourrounded by six smaller bronze statues offering flowers, incense, lamp, ointment, fruit, and music to the Buddha. These other statues symbolise the" Six Perfections" of generosity, morality, patience, zeal, meditation, and wisdom - all necessary for enlightenment.
The Po Lin Monastery was founded in 1906 and initially known simply as "The Big Hut", but renamed to its present name in 1924. The main temple houses three bronze statues of the Buddha – representing his past, present and future lives – as well as many Buddhist scriptures. The monastery is also well known for making wooden bracelets that are only sold near the Big Buddha statue. In 1918, three nuns established a private nunnery called on Lantau's Lower Keung Hill. The nunnery is dedicated to Guanyin, the Goddess of Mercy. Nowadays, only an elderly abbess remains living there.
The site can be reached by a modern cable car leading up from Tung Chung village to the visitor center called "Ngong Ping 360" but there are also several paths leading up there from the suburbs at the foot of Lantau Peak.