Armenia#
The Republic of Armenia recognizes the Armenian Apostolic Church, the world's oldest national church, as the country's primary religious establishment.
In 1918, after the Russian Revolution, all non-Russian countries declared their independence from the Russian empire, leading to the establishment of the First Republic of Armenia.
By 1920, the state was incorporated into the Transcaucasian Socialist Federative Soviet Republic, and in 1922 became a founding member of the Soviet Union.
In 1936, the Transcaucasian state was dissolved, transforming its constituent states, including the Armenian Soviet Socialist Republic, into full Union republics.
The modern Republic of Armenia became independent in 1991 during the dissolution of the Soviet Union.
Armenia is a land locked country.
Armenia has largest boundary with Azerbaijan which is approximately 566 km.
Armenia has shortest boundary with Iran which is approximately 35 km.
The largest river in Armenia is Kura which is 1360 km.
The largest export partner of Armenia is .
The largest import partner of Armenia is Russia.
Tourist Attraction#
The Khor Virap monastery stands before the snowcapped flanks of Mount Ararat.
National Facts#
The famous dance of Armenia is Armenian dance.
The famous dishes of Armenia are Khash, Harissa, Dolma, Khorovats etc.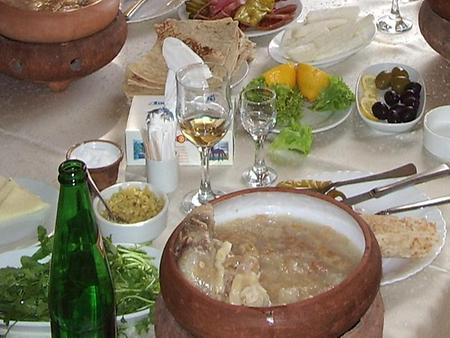 References#
Text marked as italic is taken from https://en.wikipedia.org/wiki/Armenia unter CC