Peruvian Andes #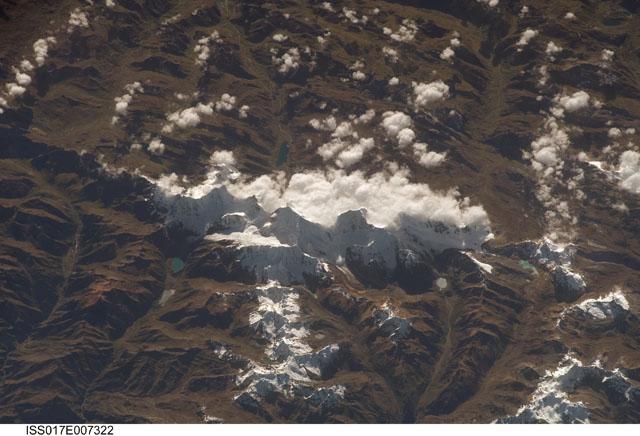 This view of the Peruvian Andes was taken looking east from the international space station flying off the Peruvian coast and shows Cordillera Huayhuash (pronounced Why-wash). Here clouds are banked up on the east side, snow covers all higher slopes and mountain peaks, and glaciers occupy lower slopes.

This prominent but short mountain range (25 km or 15 mi in length) boasts twenty peaks of remarkable steepness and ridge sharpness. Although only 100 km (60 mi) from the coastline, six of the peaks reach above 6,000 m (more than 19,500 ft), the highest of which is Nevado Yerupaja, Perus second highest peak, variously estimated as 6,617 and 6,635 m high.

Generally considered the most spectacular peak in South America, Yerupaja is so steep that it has seldom been climbed.