Montreal metropolitan area #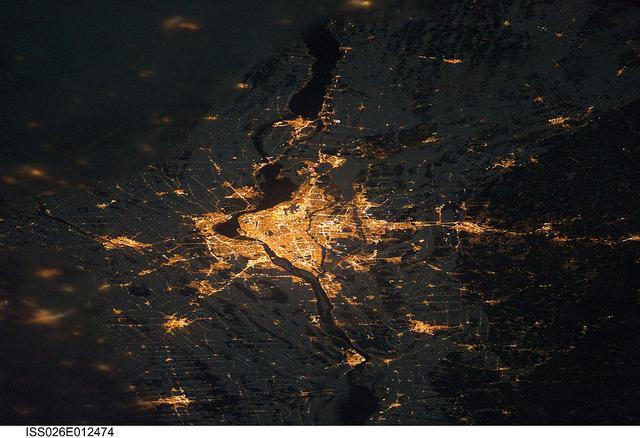 A night view of the Montreal metropolitan area is featured in this image from the International Space Station. This photo of the Montreal, Quebec metropolitan area (center) illustrates the extent of urbanization made clearly visible by city lights at night.

Major roadways and industrial areas are traced by bright white lighting, while the adjacent residential and commercial land uses are characterized by more diffuse yellow-gold lighting. Rivers and other water bodies appear black, while the surrounding rural countryside is faintly illuminated by moonlight.

Blurry areas at top and bottom left are caused by cloud cover. Montreal is the largest city in the dominantly French-speaking province of Quebec, and the second-largest in Canada, after Toronto.

While the city of Montreal proper is located on - and almost completely covers - the Island of Montreal at the confluence of the St. Lawrence (center) and Ottawa Rivers (not visible), the city takes its name from Mont Royal located at the citys center.