Calgary form the plane, the Rockies 100 km West in the background#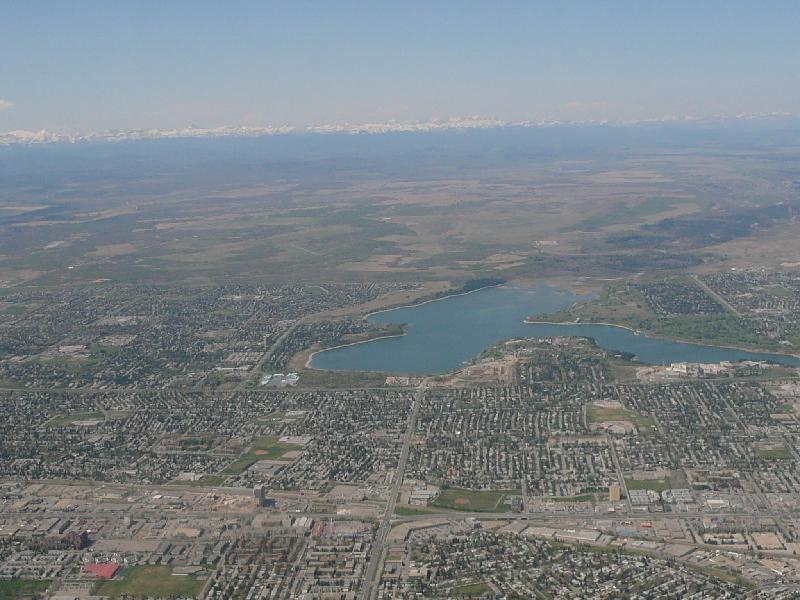 Calgary is located at the confluence of the Bow River and the Elbow River in the south of the province Alberat, in an area of foothills and prairie, approximately 100 km east of the front ranges of the Canadian Rockies.

In the 2011 census, the City of Calgary had a population of close to 1,1 million and a metropolitan population of over 1,2 million, making it the largest city in Alberta. When this compared with the 1962 census of 202.000 the impact of large oil and gas finds becomes evident.

The economy of Calgary is based on energy, financial services, film and television, transportation and logistics, technology, manufacturing, aerospace, health and wellness, retail, and tourism sectors.

In 1988, Calgary became the first Canadian city to host the Olympic Winter Games.

Calgary has a typical arrid continental climate, yet is the warmest of all prairie towns. This is due to dry "Chinook" winds that routinely blow into the city from over the mountains during the winter months. These winds are known to raise the winter temperature by as much as 30 °C in just a few hours!

The picture shows South Calgary with the Glenmore reservoir which is also a tourist attraction due to "Heritag Park". Calgary is particularly well-know for its "Stampede", an annual rodeo, exhibition and festival held every July. The ten-day event, often called "The Greatest Outdoor Show on Earth", attracts over one million visitors per year and features one of the world's largest rodeos, a parade, midway, stage shows, concerts, agricultural competitions, chuckwagon racing and exhibitions.