Brasìlia#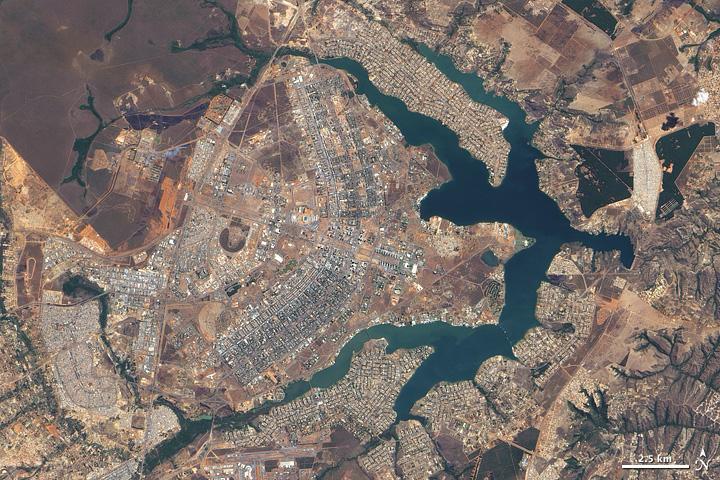 Brazils earliest national capitals - Salvador and Rio de Janeiro - were coastal cities. Although these sites were well suited to trade, they were vulnerable to maritime raids. In the late 19th century, Brazilian leaders resolved to move the capital city inland.

Large-scale construction of a new site, however, did not begin until the 1950s. On 22 April 1960, the nearly complete capital city of Brasilia opened. The citys pioneer status in urban planning prompted UNESCO to name Brasilia a World Heritage Site in 1987.

This natural-color satellite image of Brasilia taken during the summer dry season - with just 3 cm (1 in) of rain - displays earth tones characteristic of non-irrigated dormant vegetation. Buildings and roads appear off-white, gray, or pale tan. The city, whose overall design has been compared to a bird or an airplane, among other shapes, sits west of an artificial lake, Lago Paranoa.

The branching lake sends its tendrils deep into the city, helping separate the downtown area (image center) from residential areas to the north and southeast. Northwest of the city lies Brasilia National Park, protecting a large expanse of cerrado, the tropical savanna ecosystem natural to the area.