Esplanade in Ushuaia #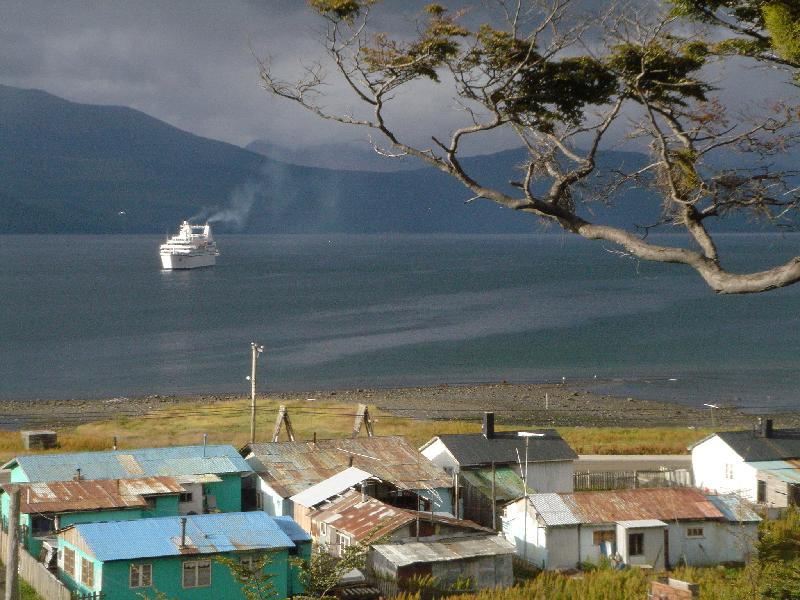 Ushuaia
Ushuaia, Provinz Tierra del Fuego, Argentinien
is the southernmost city of Argentina and, according to Argentinean opinion, also of the world, as Puerto Williams
Puerto Williams, Chile
, which is located a bit further south, is after Chilean law a village and not a city. Located at the Beagle channel the city is the capital of the Argentine province Tierra del Fuego and houses approximately 56.800 inhabitants. The name derives from the language of the natives and means 'Bay, which looks eastwards'. Ushuaia turned into a tourist magnet, on the one hand because of its vicinity to the national park and on the other hand because of cruise ships calling at the port and as a starting point for Antarctic expeditions. The city is known as one of the most expensive ones of South America as most of the goods have to be imported, sometimes even over long distances.
Ushuaia
Ushuaia, Provinz Tierra del Fuego, Argentinien
ist die südlichste Stadt von Argentinien und nach argentinischer Meinung auch der Welt, da Puerto Williams
Puerto Williams, Chile
, das zwar etwas weiter südlich liegt, nach chilenischem Recht ein Dorf und keine Stadt ist. In der Stadt am Beagle-Kanal leben etwa 56.800 Einwohner, sie ist auch Hauptstadt der argentinischen Provinz Tierra del Fuego. Der Name stammt aus der Sprache der Ureinwohner und bedeutet soviel wie 'Bucht, die nach Osten blickt'. Ushuaia hat sich zu einem Touristenmagnet entwickelt, zum einen dank der Nähe zum Nationalpark (Parque Nacional Tierra del Fuego) und zum anderen als Zwischenstopp für Kreuzfahrtschiffe und Ausgangspunkt für Antarktisexpeditionen. Die Stadt gilt auch als eine der teuersten Städte Südamerikas, da fast alle Waren, teils über weite Strecken, importiert werden müssen.