Swakopmund #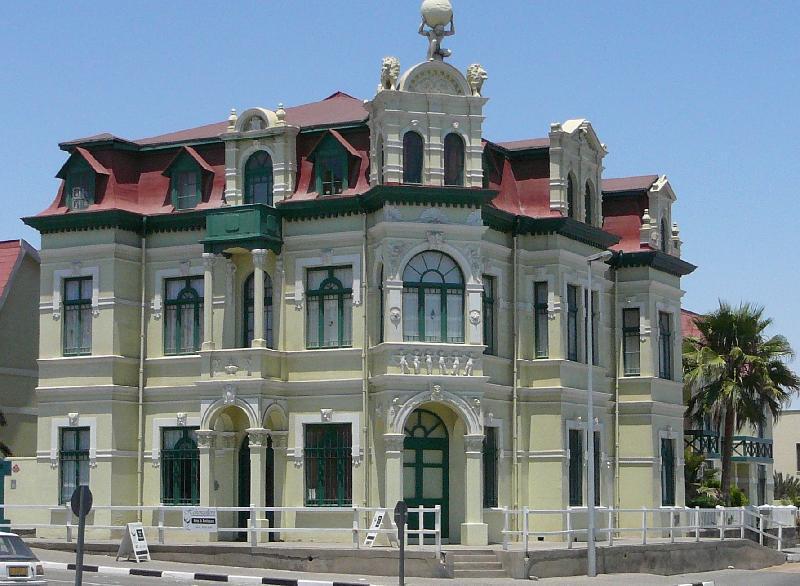 Swakopmund
Swakopmund, Erongo, Namibia
is a beautiful seaside resort which appears like a mirage after driving through the extremely dry desert all day long. The city was founded in 1892 by Germans looking for a strategically sound harbour. Walvisbay, a good natural harbour 40 km south, was controlled by Englishmen. A point in favour of Swakopmund was the river Swakop, which sometimes empties into the sea after crossing the Namib Desert. No bay exists in Swakopmund.Hence a long jetty had to be built. If the river Swakop reaches the ocean, it carries a huge amount of sand and deposits it into the sea, necessitating the dredging of the harbour.
Swakopmund
Swakopmund, Erongo, Namibia
ist ein schöner Badeort, der wie eine Fata Morgana auftaucht, nachdem man einen Tag lang durch eine extrem trockene Wüste gefahren ist. Die Stadt wurde 1892 von Deutschen gegründet, da man einen eigenen Hafen für strategisch wichtig empfand. Der gute natürliche Hafen, nur 40 km südlich, Walvisbay, wurde damals nämlich von Engländern kontrolliert. Für die Wahl des Platzes schien zu sprechen, dass hier der Fluss Swakop als einer der wenigen Flüsse ab und zu wirklich erfolgreich die Namib durchquert und das Meer erreicht. Freilich, da es keine Bucht gab, musste man ein lange Anlege ziemlich weit ins Meer hinausbauen, wobei sich nun der Swakop als Gefahr erwies: erreichte er das Meer, brachte er Unmengen Sand mit sich, wodurch der Hafen immer wieder ausgebaggert werden musste.