Maseru #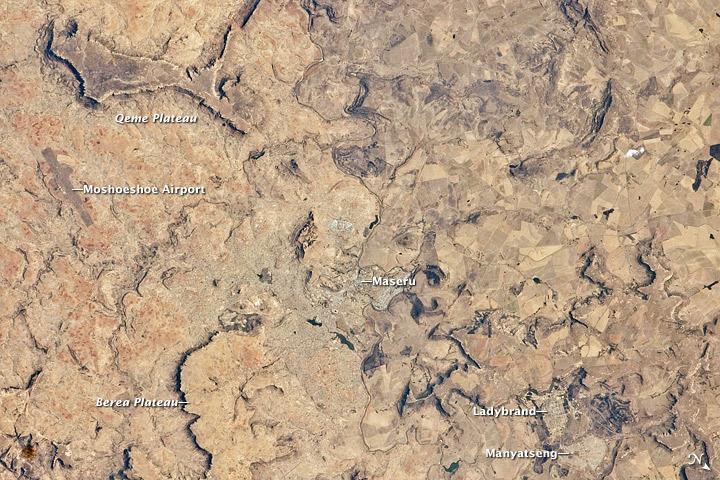 Maseru

Maseru, Lesotho

is the capital city of the Kingdom of Lesotho, and is located along the northwestern border of the country with the Republic of South Africa.

The footprint of the urban area, recognizable by street grids and distinctive blue-roofed industrial buildings at image center, is only just visible against the surrounding landscape. The city has expanded eightfold since independence from the United Kingdom in 1966, and is now home to one in five citizens of the country.

The Caledon (or Mohokare) River flows adjacent to Maseru and forms a part of the border between Lesotho and South Africa. Locally, the border extends from approximately image top center left to image bottom center right, with the cities of Ladybrand and Manyatseng located in South Africa. Moshoeshoe International Airport (left) provides access to the capital. Major industries in the city include flour mills and footwear and textile companies.

Tourism is also a growing part of the local economy. The Kingdom of Lesotho is completely landlocked by the surrounding Republic of South Africa. Major landforms visible in the image include the Qeme and Berea Plateaus, erosional remnants of horizontally layered sedimentary rocks that formed in the Karoo Basin approximately 200 - 229 million years ago during the Upper Triassic Period.