Camel Market Al Ain#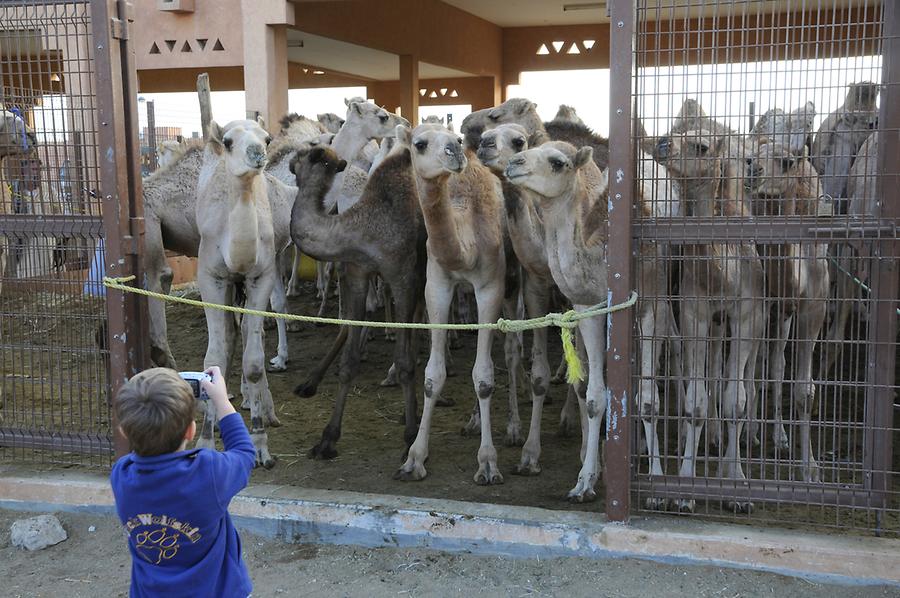 Just outside the town one of the biggest camel markets of the Arabian Peninsula still takes place every day. Behind hundreds of pens these modest animals are waiting for their buyers. Without camels it would be inconceivable to survive in the desert. Therefore, the Arab language has more than 160 synonyms for this animal as: "Dauntless Heart", "Father of Loneliness", "Miracle of Virtue" and "Greatest Gift of Allah": Besides its role as a transport and pack animal, it provides meat, milk and hair, from which tarpaulins can be woven. The dry dung is used as heating fuel, the urine as sterile wound cleaner. In addition, camels mean capital. With them you pay for brides and atone for crimes.
Etwas außerhalb der Stadt findet immer noch alltäglich einer der größten Kamelmärkte der arabischen Halbinsel statt. Hinter hunderten Pferchen warten die genügsamen Tiere auf Käufer. Ohne die Kamele wäre ein Überleben in der Wüste nicht denkbar. Daher kennt das Arabische über 160 Synonyme für das Tier wie: "Unverzagtes Herz", "Vater der Einsamkeit", "Wunder der Tugend" und "Größtes Geschenk Allahs": Neben seiner Funktion als Transport- und Lasttier liefert es Fleisch, Milch und Haare, aus denen sich Zeltplanen weben lassen. Der trockene Dung dient als Brennstoff, der Urin als keimfreier Wundreiniger. Zudem bedeuten Kamele Kapital. Mit ihnen bezahlt man Bräute und sühnt Verbrechen.