Baalbek#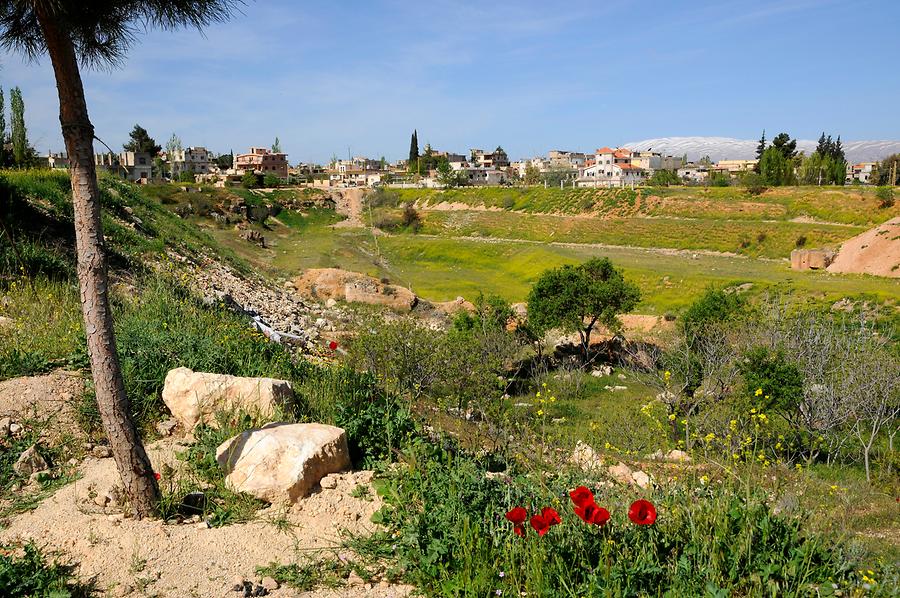 A trip to the Roman ritual complex of Baalbek
Baalbek, Gouvernement Bekaa, Libanon
in today's Lebanon should not be missed if the political situation allows it. The biggest Roman temple of all time is found there. 5.000 years ago people worshipped the Mesopotamian weather god Hadad, also called Baal, which means "lord" or "master", here. Lateron Baal was a title given to the highest deity of the local pantheon. Today the sleepy little village of Baalbek lies in the Beqaa valley, surrounded by the 3.000m high mountains of the Eastern Lebanon Mountain Range. Snow covers the mountains till well into May.
Wenn es die politische Situation erlaubt, sollte man einen Ausflug zur römischen Kultanlage von Baalbek
Baalbek, Gouvernement Bekaa, Libanon
im heutigen Libanon keinesfalls versäumen. Dort steht der größte römische Tempel aller Zeiten. Bereits vor 5.000 Jahren wurde hier dem mesopotamischem Wettergott Hadad gehuldigt, der einfach als Baal, d.h. "Herr" bezeichnet wurde. Später war Baal ein Titel, der der jeweils obersten Gottheit des örtlichen Pantheons gebührte. Heute liegt das kleine Dorf Baalbek verschlafen in der Bekaa-Ebene, die vom 3.000m hohen Libanongebirge eingerahmt wird. Bis weit in den Mai hinein liegt Schnee auf den Bergen.