Holy Trinity Cathedral of Tbilisi - Iconostasis#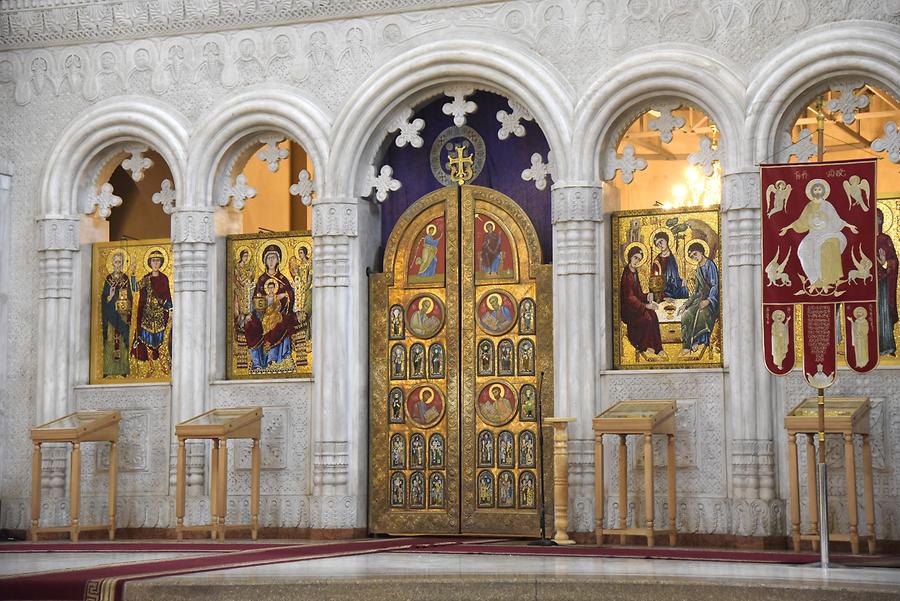 Die orthodoxe Architektur folgt strengen Regeln. Wichtigster Baukörper im Inneren der Kirchen ist eine mit Ikonen geschmückte Wand, die Ikonostase. Sie trennt den öffentlichen Kirchenraum vom Altarraum dahinter, gleichsam als Scheidewand zwischen himmlischer und irdischer Welt. Ikonen spielen im Glauben der Menschen eine zentrale Rolle. Sie sind keine Porträts im herkömmlichen Sinn, sondern vielmehr zweidimensionale Hüllen für ein geistiges Wesen. Nach Ansicht der Gläubigen materialisieren sich die dargestellten Heiligen im Gemälde und können dadurch Kontakt mit den Menschen aufnehmen, die Gebete erhören und Wünsche erfüllen. Jeder Heilige ist für ein bestimmtes Ressort zuständig. Nikolaus beispielsweise kümmert sich um Kinder und Seeleute. Bei Augenleiden wendet man sich an Paraskevi, bei Hüftschäden an Markella und der Heilige Raffael bemüht sich um Krebskranke. In der Ikonenmalerei ist jedes Detail festgelegt. Künstlerische Individualität ist nicht gefragt. Eines dürfen Ikonen niemals: durch Anwendung der Perspektive die Illusion von Raum schaffen, denn dass würde den Heiligenbildern das Durchgeistigte nehmen. Der kunsthistorische Wert eines Bildes spielt keinerlei Rolle, höchstens das Alter, weil historische Ikonen schon häufig ihre Wunderwirkung zeigen konnten. Ikonen sind also weder Kunst noch Dekoration, sondern zentraler Bestandteil der Religion.
Orthodox architecture follows strict rules. The most important building in the interior of the churches is an iconic wall, the iconostasis. It separates the public church space from the sanctuary behind it, as if there was a partition between heavenly and earthly world. Icons play a central role in people's beliefs. They are not portraits in the conventional sense, but rather two-dimensional envelopes for a spiritual being. According to the faithful, the depicted saints materialize in the painting and can thus make contact with the people, hear prayers and fulfill desires. Every saint is responsible for a particular task. Nikolaus, for example, takes care of children and sailors. In case of eye diseases one turns to Paraskevi, with hip damage to Markella. Saint Raphael tries to help cancer patients. In icon painting, every detail is defined. Artistic individuality is not in demand. One thing the icons must never do: create the illusion of space by applying perspective, because that would take away the holiness from the images of the saints. The art-historical value of a picture does not matter, however sometime its age, because historical icons have often been able to show their miraculous effect. Icons are neither art nor decoration, but a central component of religion.