Empire State Building - Panoramic View of Midtown Manhattan#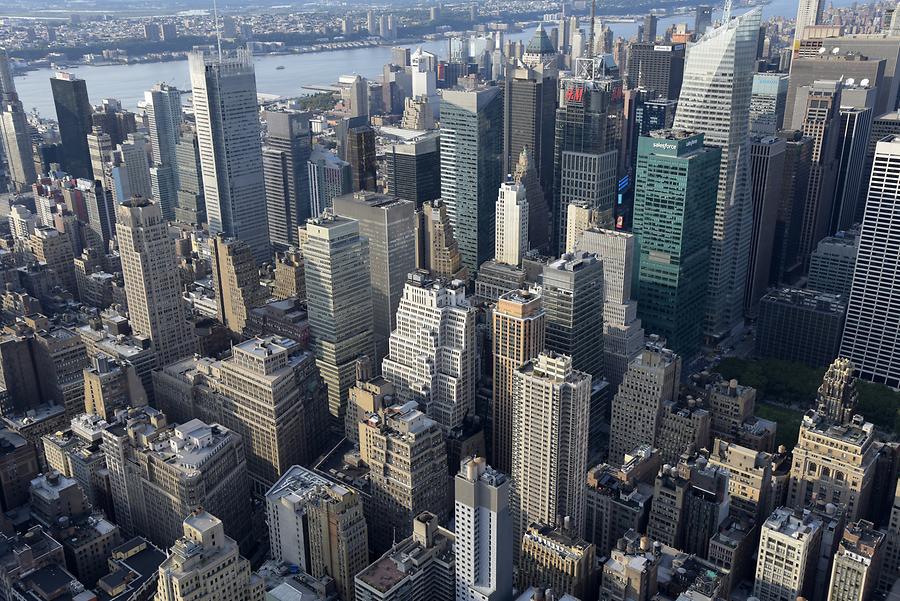 Lifte bringen Besucher bis in den 86. Stock, wo eine Freiluftplattform atemberaubende Ausblicke über New York gewährt. Seit Eröffnung des Gebäudes 1931 zählte die Plattform 120 Millionen Besucher. Dem Besucher liegt New York hier buchstäblich zu Füßen, jene Stadt der Städte, der Big Apple, das Synonym für menschliche Urbanität. Längst gibt es viel größere und modernere Metropolen, doch wer Stadtkultur in all seinen widersprüchlichen Facetten erleben möchte, kommt an New York nicht vorbei. Die Metropole ist faszinierend und verrückt zugleich. In der 102. Etage existiert noch ein kleines, geschlossenes Aussichtsdeck, das jedoch nicht unbedingt lohnt. Eine heute verschlossene Tür führte einst auf eine luftige Terrasse, gedacht als Anlegestelle für Zeppeline. Doch nur ein einziges Mal gelang ein halbwegs erfolgreiches Andockmanöver, denn man hatte nicht bedacht, dass die Gondel mit den Passagieren in der Mitte saß und sie schlecht den Zeppelin durch den heliumgefüllten Ballon verlassen können...
Elevators take the visitors up to the 86th floor, where an outdoor deck affords breathtaking views of New York. Since the opening of the building in 1931, the platform had 120 million visitors. New York is literally at your feet here, the city of cities, the Big Apple, byword for human urbanity. By now, there are much larger and more modern cities, but who wants to experience city culture in all its contradictory facets, does not get around New York. The metropolis is fascinating and crazy at the same time. There is still a small, closed observation deck on the 102nd floor, which is not necessarily worthwhile. A door, locked today, once led to an airy terrace, intended as a landing stage for zeppelins. But only once a reasonably successful docking maneuver succeeded, because one had not considered that the gondola with the passengers was located in its middle and the passengers can hardly exit the zeppelin through the helium-filled balloon ...