Huntsville US Space & Rocket Center Wernher von Braun#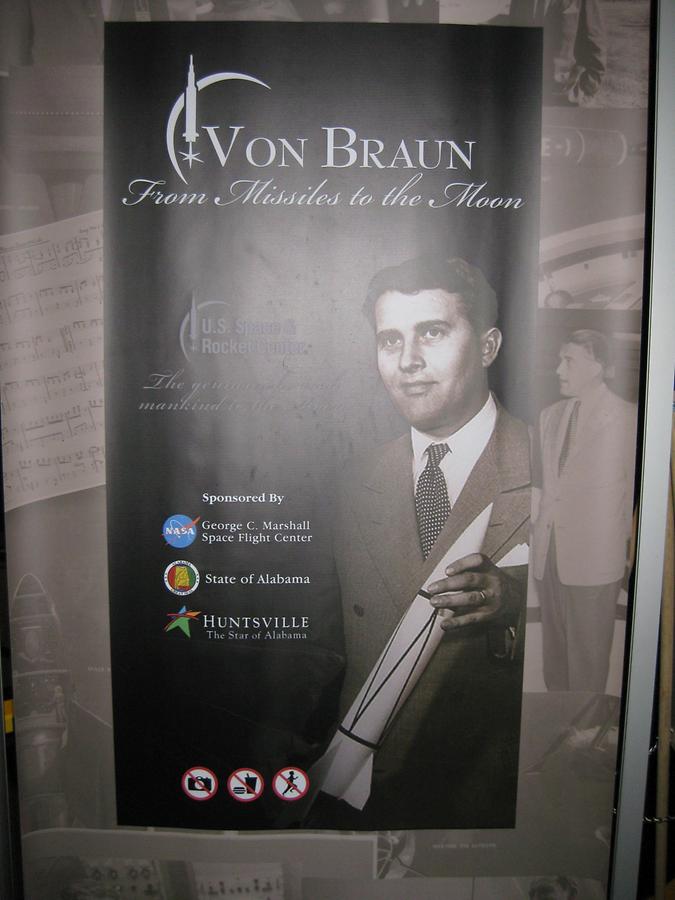 Wernher von Braun (born 1912 in Wirsitz, died 1977 in Alexandria, Virginia, USA) was a German and - later - American rocket engineer, a pioneer in the development of space. He was held in high esteem for his headship in the construction of carrier rockets for the NASA missions but is also highly controversial because of his former membership in the Nazi party, the SS and his participation in the warfare of Nazi Germany and also due to the construction of the "buzz bomb" using concentration camp prisoners and forced laborers.
Wernher von Braun (geb. 1912 in Wirsitz, gest. 1977 in Alexandria, Virginia, USA) war als deutscher und - später - US-amerikanischer Raketeningenieur ein Pioneer in der Entwicklung der Raumfahrt und genoss wegen seiner leitenden Stellung beim Bau von Trägerraketen für die NASA-Missionen hohes Ansehen, ist aber wegen seiner szt. Mitgliedschaft in der NSDAP, der SS und seiner Beteiligung an der Kriegsführung des nationalsozialistischen Deutschlands sowie aufgrund des Baus einer "Vergeltungswaffe" unter Verwendung von KZ-Häftlingen und Zwangsarbeitern stark umstritten.